© 2010 by Nick B. Nicholaou, all rights reserved
President, Ministry Business Services, Inc.
Reprinted from Christian Computing Magazine

It's Spring, and to many of us that means "Spring Cleaning". Computer data is one of those areas that needs constant grooming, and the payoff is big! But to some just thinking of it feels like a chore. In this article I'll help you organize your data and delete unnecessary files easily.
Not Your First Choice for a Fun Date!
I love creating an organized and uncluttered space. Others, though, can almost feel their energy drain just thinking about it. I know this topic isn't a fun one, but there are great reasons to clean up your data files, including:
Hard drive space is inexpensive today, but trying to recover from a disaster is not. Minimizing the amount of data necessary to survive a disaster— from natural disasters to system failure disasters— helps make disaster recovery/ business continuity strategies more effective.
Many save multiple copies of files while they are 'in process' on a project. Keeping those early files can create confusion and even lead to frustration when trying to find the 'latest' file. I have seen people repeat hours of work only to learn later they had a more complete file, but couldn't find it!
The government found this was one of the problems in financial disasters like Enron, and now CPAs are required to test for the existence of multiple copies of the same file that could lead someone to make a bad decision because they didn't have authoritative information.
While data cleanup isn't fun, it is important. And if done strategically, it's easy to maintain!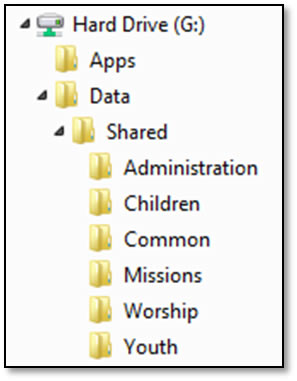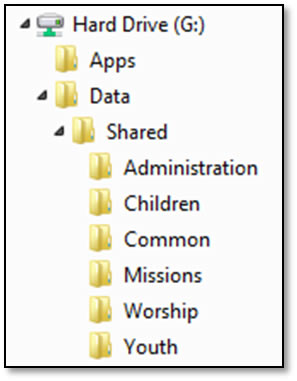 First, Categorize Your Data
I like to organize my files as though my hard drive was a room with file cabinets in it. The room has a label on the door that says Data, and there are a bunch of file cabinets in it with labels above them that say things like Work-Related, Personal, etc. On a network I might think of Data more like a building, and its rooms are controlled by keys making some private, some departmental, and some open to the entire team. With this analogy in mind, the following folder structure makes more sense. We create a Shared folder under Data, and under it we have an area for the entire team called Common as well as departmental folders. With network security only those who should have access to a departmental folder can see its contents, while everyone on the network can see the contents of Common.
The private— actually it is mostly private since network administrators and leadership have access to it— area is under Users and is organized by login name. And under each individual's login name they can create folders to organize their data files, just like labeling the drawers on file cabinets. This is also what can be done under Common and in the departmental folders.
My favorite way to create a folder in Windows is to go where I'd like to create the folder, maybe in my My Pictures folder, right-click and select New. One of the options will be to create a new folder, and then I can name it whatever I want that will make sense to me later, maybe Beach Trip.
The next part of this process is to move your data files into the folders you've created. While doing so, make sure the filenames make sense. When you find duplicate files, decide which one to keep and delete the other.
Another helpful tip when categorizing your data is that some files are best organized by categorizing them further. For instance, maybe you have a Bulletin folder in which you may want to create folders for each year.
Decide What is 'Old Data'
Some data must be kept forever, like board minutes, certain personnel records, etc. But most data has a shelf life, just like the Must Sell By date on milk, and once it gets stale will never be useful again.
In a church or ministry, the shelf life should be established by that organization's leadership and set into policy. Pictures, for example, may have a longer useful life than the files used to print the weekly bulletins. Some common aging categories might be pictures, email, legal documents, letters, budgets, etc. Decide how long each category should be kept and delete those that are older!
Those are a few guidelines that can save you and your ministry time and money. They're not hard, don't take a lot of time, and are easy to maintain once set in place.