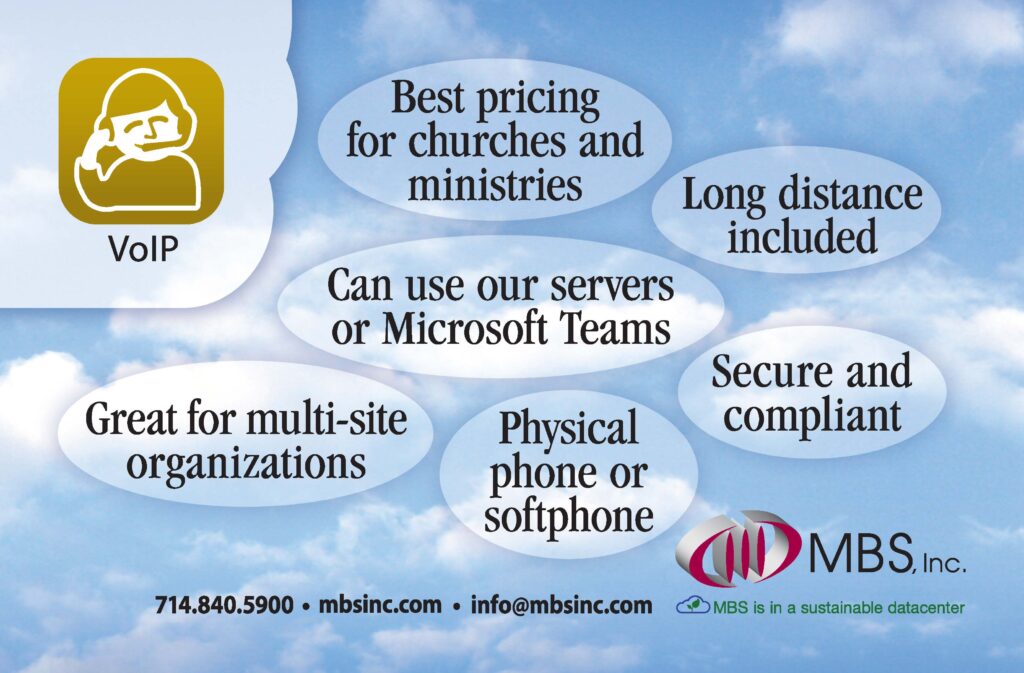 VoIP, or Voice Over Internet Protocol, is a replacement for analog phone systems that reduces costs dramatically, provides greater access and significantly improves ministry effectiveness.
MBS engineers VoIP systems for Christian churches and ministries. We can host your phone system, or PBX, in our private datacenter or help you leverage the power of your phone system in Microsoft Teams. One of the benefits of having your VoIP hosted in our datacenter is that our datacenter never goes down! Not even in bad weather and we maintain all the software and hardware.
MBS configures VoIP PBX servers that deliver high reliability and quality at low cost.
The VoIP PBX we use supports a lot of features including:
Long distance included
Unlimited trunks (think of a trunk like a traditional phone line)
Block lists for incoming callers
Call forwarding
Find-Me / Follow-Me
Call Waiting
Call Groups & Other Ringing Extension Pick-Up
Paging & Intercom
Personal Greetings & Temporary Greetings (for out-of-office, etc.)
Phonebook Directory
Configurable Time-Condition Call Flow that can be Manually Overridden
Customizable auto attendant
Physical phones, softphones, or both
Fax to email (no more physical fax machines)
Texting on any of your numbers via email
Apps to make and receive calls from your ministry number on your smartphone
Management of on call ministries and prayer requests
Friendly, US based support (that'd be us!)
And much more!
We can also setup your VoIP to work with Microsoft Teams.
We have negotiated exclusive ministry rates through our SIP (dial tone) provider allowing us to include unlimited trunks and unlimited usage at an extremely low price. Unlimited trunks means you can make and receive an unlimited number of calls, without the need for multiple phone numbers or phone lines.
Our monthly price is $100 for the first 5 extensions, and then $5 per extension after that.
Service is provided on a month-month or quarter-quarter basis, no long-term contracts to sign.
Pricing includes Teams Phone license if Teams is selected for the PBX.