© 2017 by Nick B. Nicholaou, all rights reserved
Ministry Business Services, Inc. President
Reprinted from inSIGHT
The most current stats published by the FBI (2015 via ic3.gov) show they received nearly 290,000 cybercrime complaints that year, with an associated loss of $1.1 billion! At the time of this writing a new ransomware called WannaCry (aka WannaCrypt) is infecting computers worldwide. Are you and your data safe? What do you need to do– and not do– to be safe?
Age Groups Affected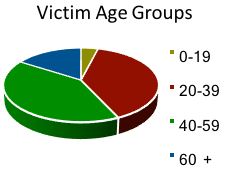 The two age groups most impacted by cybercrime are ages 20-39, and ages 40-59, and both of those groups are about evenly split. Together they account for 80% of cybercrime victims in the U.S. Thatmakes sense when you figure that those under 20 (4% of victims) don't have much to spend online, and of those over 60 (16% of victims), only a portion of those are heavy computer users. So, what the stats seem to say is that if you use a computer, you are equally at risk no matter what your age is.
How Do Cybercrime Infections Happen?
Most cybercrime happens one of two ways:
Via Email. An email appears in your inbox that has a link, graphics, or a form to complete, or may appear to be from someone you know (known as spear phishing).
Via Infected Websites. Websites, even those that are legitimate, can be infected with malware easily if their hosts are not keeping up with security patches and strategies. Criminals can buy inexpensive 'crimekits' that look for and infect vulnerable websites. We've even seen that happen to church and ministry websites!
How to Protect Yourself and Your Data
Let's address this in the two categories of email and websites.
Via Email. There are a number of things you can do and are best not to do to help in this area:

Make certain your email is scanned by a capable SPAM filter to help minimize the number of dangerous emails that get to your inbox. I say minimize because some will still get through even the best SPAM filter; those are often referred to as zero hour emails. Zero hour emails are newly introduced methods and strategies that have not yet been identified as a pattern of dangerous email.Our firm prefers Barracuda SPAM filters. We even tested Microsoft's O365 SPAM filtering solution, and found that it let many more unwanted emails through than the Barracuda– especially­ from other O365 email accounts.
The FBI warns as follows:

Do not click links in emails. I modify their warning, that you can click only if you first hover your mouse over the link, which will show you where it wants to take you. If you're not certain the destination is safe; do not click the link.
Never reply to senders you don't know. This gets tricky, though, because the sender can be spoofed, as in spear phishing. If you want to reply to someone– even someone you know, look at the email address in the 'To' field when you're composing your response to be certain that address is what you expected to see there before clicking 'Send'.
Do not fill out forms in emails.
Do not open attachments in unsolicited email.
Be skeptical of those representing themselves as surviving victims or friends in need.

I add one more item to the FBI's list. Immediately delete SPAM emails, and empty your deleted items daily.
Via Infected Websites. I recommend two methods of protection in this area:

Use a good firewall to protect your entire system from dangerous content transmitted from websites. The better firewalls let you filter content, but for this discussion, the focus is on protecting your systems from malware. Typically there is a subscription from the firewall provider that must be kept current to protect you from newer methods and strategies.The firewalls my firm recommends are SonicWALL firewalls running their Total Secure subscription package. We find those to be the sweet spot of features, protection, and cost for churches and ministries.

If you're a consumer vs an organization, check with your Internet Service Provider (ISP) and confirm with them that they have all of the protections turned on in the modem or router they provided.

Use a capable anti-malware solution on your computers– whether Windows or Mac (yes, Macs get infected too, regardless of what many say). The solution my firm likes most is Thirtyseven4.com; it is capable and reasonably priced.
Finally, keep a history of total data backups to help you recover from an infection that somehow slips through. There are no total guarantees of protection, and having a history of backups available (we prefer a full month of daily backups to cover an infection that has an incubation period and doesn't 'go live' and get noticed for awhile), you should be able to recover from any infection that happens.
What About WannaCry Ransomware?
WannaCry takes advantage of a Windows vulnerability that Microsoft patched months before the outbreak occurred for all their supported operating and network operating systems. That said, it is important to keep your systems and apps up to date regarding patches; many of the updates are security-related.
It appears WannaCry is gaining access to files from people responding to a spear phishing attack. Be cautious with the emails in your inbox!
If you are running an unsupported Microsoft operating system, like XP, Windows 8.x, or Server 2003, Microsoft recently released a patch you can manually download and apply to shore up the vulnerability WannaCry exploits. Here's a link directly to Microsoft for help:
https://blogs.technet.microsoft.com/msrc/2017/05/12/customer-guidance-for-wannacrypt-attacks/.
Don't become a victim of cybercrime! These are easy-to-implement strategies and disciplines that you, your staff, and your family can adopt. And there will likely come a time when you'll be glad you did.